All aboard the shopping cart! :D
For the
Malaysian Mega Sales Season
has arrived!
'Tis the season of bazaars, clearance sales, massive discounts - whether online or offline.
Which leaves us with this question:
What're the 8 tools of the shopping season?
So I've caught the flu bug and the cat's got my tongue -
so here's a post that's so blissfully logical that we don't need too many words here! :)
Tool 1:
Keep your hair outta your eyes, so you can spot those bargains clearly!
From
Edward Cullen
RM10 |
Baby Be Dazzled
RM10 |
Minimo
urs
RM15
Tool 2:
We have crazy hot weather.
Stay cool, or the heat'll get to you - resulting in hasty impulse purchases -
or worse, turning off the shopping mood!
From
Seventh Day
RM32 |
Miss OCD
RM25 |
YeePii's Closet
RM35
Tool 3:
You'll want to try things on. Tube tops and tank tops are the solution to avoiding long queues or non-existent changing rooms. And just for laughs, check out
Kenny Sia's blog post
about his experience at a warehouse sale!
From
Couture & Doll
RM29|
The It Girl
RM39 |
Walking Wardrobe
RM15
Tool 4:
Personally, I know no other love like my love tank dresses. :D
Easy to take off and pull on for massive changing room action.
They're flowy, cooling, and comfy - wear them with tights, jeans, or just show off 'em legs!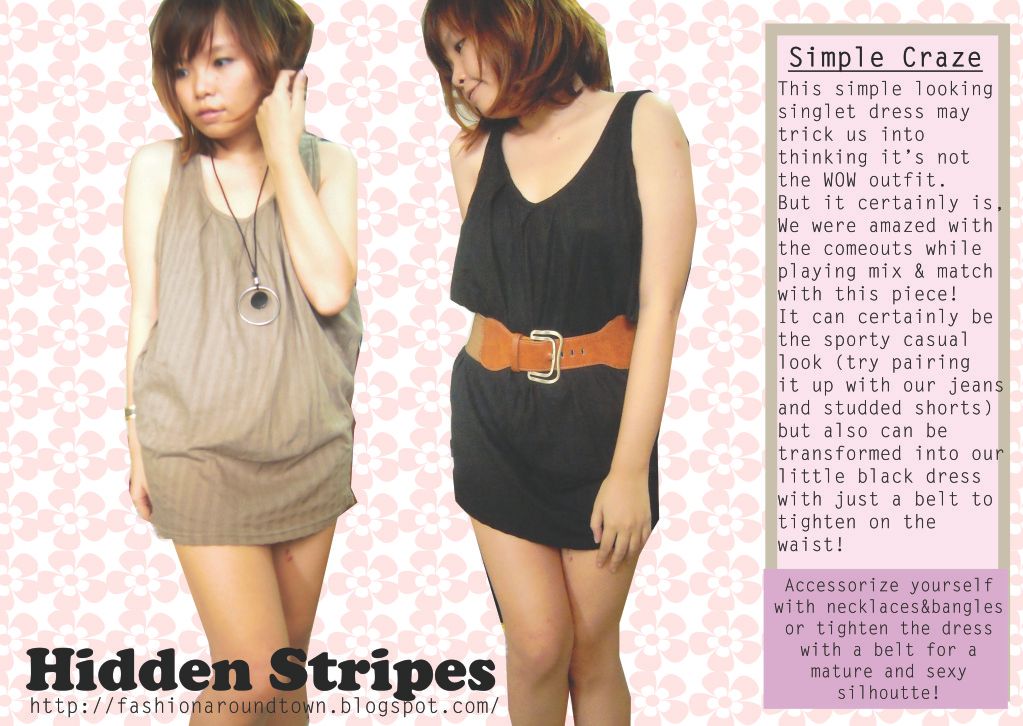 From
F.A.T
RM32 |
Dollhouse Avenue
RM34 |
Oops Treat
RM32
Tool 5:
Keep your spirits up with the pretty, colourful, and/or sweet!
Bad weather, pushy crowds, and a shrinking allowance can easily put you in a bad mood -
so stay cheerful and positive with fun dresses that emanate sunshine. :D
Remember - shopping is meant to be fun!
From
Emcee Couture
*self-designed* |
A Bit of Everywhere
RM35 |
1dressaholic
RM39
Tool 6:
Don't let your bottoms get in the way. :P
Denim or cotton shorts will be great to go with almost any tops you try on -
and leggings spare you the button-bulge and you can try on just about anything!
Shorts from
The F Word
RM30 |
Cats Whiskers
RM47.20
Leggings from
My Clothes Affair
RM22 |
Midnight Glam
RM32 |
Avenue JV
RM19
Tool 7:
Your bag is your single most-important shopping tool!
Not only does it have all your shopping currency inside, the ocassion determines your bag.
The logic is simple: If you're going thrifting and bargain-hunting, where you need to bury your hands into piles and piles of RM10 clothes, bring a sling bag. If you're going shopping in a mall or to a place where you're going to have to stuff lots of purchases into your bag, bring a large shoulder bag. :D
From
Darisy2u
RM10 |
Stuff R Love
RM42 |
J's Fashion Diary
RM38
Tool 8:
Too many times we've spent the entire day shopping,
and the next two days whining about how our feet are killing us.
The importance of footwear is impossible to ignore!
Sandals and flip-flops are the shoes of the shopping future.
Are you ready?
Time to hit those sales!
Happy Shopping!
Your Shopping Kaki :)