By Cynthia (Guest Blogger)
It's been awhile since we have been talking about about make up and beauty junks - my favourite toys =D
I finally got hold of the latest brush to hit the town -
Bubbi brushes
, created by a makeup blogger -
BubzBeauty
. This is actually my first time hearing about
BubzBeauty
, and I must say she does have some pretty good makeup tutorials that is pretty practical for daily wearing.
The Bubbi Brushes Collection
I am not a professional beauty expert to begin with. Hence throughout the review, I most probably won't be able to come out with 'make-up' specific terms to describe. Bear with me! But I really do love make up and it is basically an essential regime that is allocated into every morning of my life ;)
A good brush set is as essential as having a good buddy. Though sometimes a buddy makes you waste time hanging out with them. But a good brush will never waste your time =D
A good set of brushes normally makes putting on make up a breeze!


Morning rituals
Personally, I don't think we need an extensive tray of brushes - unless you are ready to wake up at 4.30am to start preparing your face as a canvas to your creative hands. A basic set of brush to cover some basic job scope - putting a base, setting of base and putting on eyeshadow would normally suffice if you are at Operation Lazy Level 5 (maximum level of laziness would mean you go out bare faced, not even with traces of mosituriser or sunblock!)
From zombie to human lookalike feature - all made possible with the power of make up!
Price : RM45
What is it?
I would like to assume HD refers to hard disk High Density. The amount of hair packed in this brush of 2cm in diameter is so densed that it makes cleaning it after using a hassle! Wait! This is supposed to be good. Can you imagine having a sparse density of hair - like a toothbrush to sweep your face? As it it densed and super densed ( I must say) it is pretty easy to equally distributing / sweeping the creamy foundation on your face.
The brush is good if you want to apply liquid foundation on and the sweeping gives a fuller coverage than slapping it on with your palm.
Pros
This High Density brush is more fit for those who uses liquid foundation and have at least 15 mins of spare time out of their normal make up routine.I've tried using my Bourjois Healthy Mix liquid foundation with the brush. But as the foundation is pretty expensive and hard to get (lengthy statement to define stingy), I've tried on quarter of a face (confirm stingy) to see how smooth can it glides. Definitely the brush to use for liquid foundation and not creamy foundation or BB creams. The slanted head is pretty good to reach to those hard-to-reach areas like sides of nose, under nose and jawlines.
Cons
As I am a BB cream user and somehow I felt that BB cream are always thicker in feel than foundation, I find it not as convenient to use this brush. It's always easier to warm BB cream on your fingers and slap onto face than having to brush it on. Also, I think you would need a huge dollp of BB creams shall you want to use the brush applicator as it tend to absorb quite a lot everytime you sweep into it.
Given the time and effort to put on your make up base with the base, you definitely can achieve the flawless look. But I just don't have a much time every morning. Perhaps it's best to use when you are prepping up for special events and have 3 hours in advance ;)
Dual Eyeshadow Brush
Price : RM35
All shading created with the brush and I love myself! I mean I love the brush!

What is it?
With 2 different sizes on both end I use the wider one to sweep light colours on the entire eyelid before starting any darker shades for toning.
Again the hair is so densed yet fluffy, it picks up color very easily. Hence you only need to sweep lightly on the eyeshadow
The smaller end is used for shading at corner of eyes and blending it inwards. I would love to do a video of what I am trying to encapsulate in my sentence here, but that will have to wait till I master video editing!
Pros and Cons
It's a perfect blending tool I have used so far.
Zeus Boutique
also have the
fluff brush
for blending purposes, but I chose this dual brush instead as having 2 brush head in one is always a better option when it comes to saving time and space!
As I wear make up daily, it is rather impossible for me to wash the brush on daily basis and increase it's wear and tear. When I need to use a different colour the next day, all that I have to do is tap off the excess from the day before. The color pigments comes off quite easily with a harder tap. Some may assume when color pigments comes off easily from a brush, it could be possible that it's not a good brush and probably made of cheap synthetic hair and hence colour may not even stay on your eyelid while applying.
This is not so. The hair feels natural and because it is super densed, it's pretty easy for the colour pigment to stay on the brush.
Can't find anything negative about the brush so far and loving it much!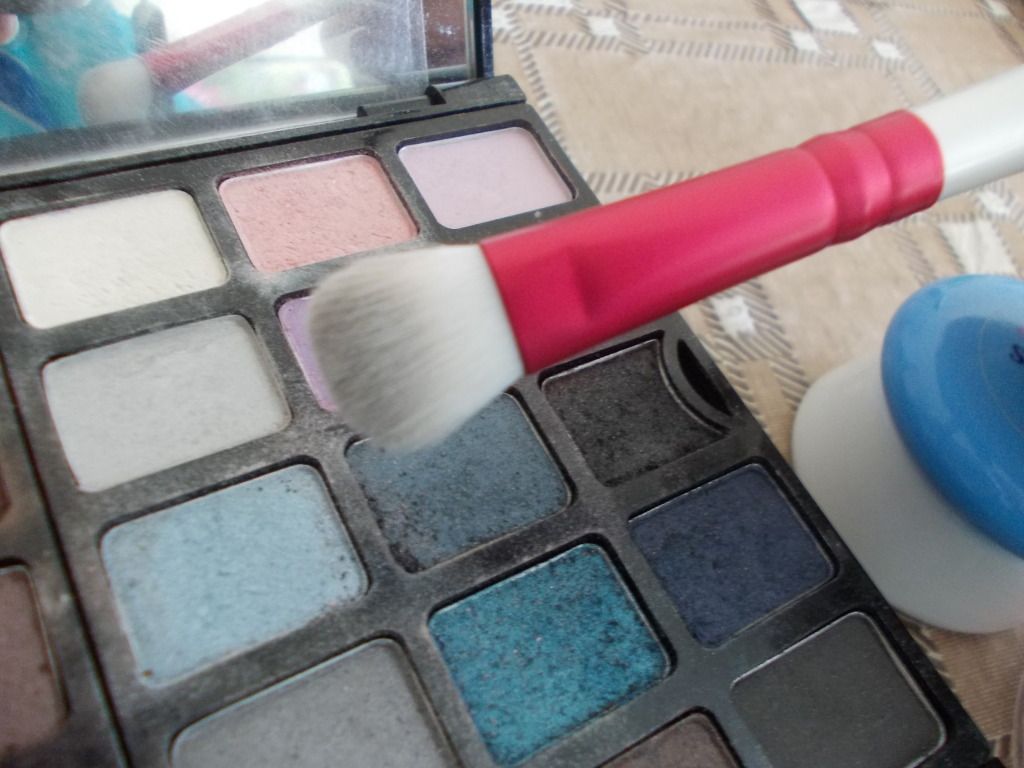 Only a gentle dab required to pick up colours quick ;)
See how long a stroke I can achieve (from darker end to lightest end) by swiping the brush continuously from one end to another - shows that it's a great blending and toning tool =D
heavier set of makeup for performance
the everyday makeup!
Price : RM50
Can you see how the colour of the powder have been absorbed all the way up to above the darker color of the hair? Advise - wash your brush often =P
You may have to press your brush to fit into thohse small blush pallete like I do ;)
What Is It?
The name says it all - Buffer!
Equally as powderful as the blending brush - I heart this much too!!
Though it says a buffer brush used more for face sculpting and best used with mineral powder, I used it as a normal powder brush and later tap off the excess only to use as a blusher brush. And I repeat the same for the next day ;) As the hair is extremely soft
Pros & Cons
Although the flat surface (check back on the first picture above) could be tad too wide for powders in pallete (like my Victoria Secrets pallete above), you sometimes tend to over sweep colours on the next block of colour. More often than not, I pick up colour from 2 shades of blusher colour because the surface of the brush is bigger than the surface of a single blusher block as you can see above.
But it is all OK for me! The super blending ability of these densed yet fluffy hair (until now, I still have no idea if these are pony hair, lion hair or any other hair it is made of!) is just amazing. And yes, you can do contouring too once you have mastered the skills to navigate the brush on your face ;)
Cleaning the brush will take you a slightly longer time since the hair is densed and super compact. You may need to 'shampoo' and rinse a few times till the residues are totally cleared off. As the hair of these brushes are off white (almost white) it is pretty easy to check if you have cleaned it thoroughly or otherwise.
If by now you are tempted to get a set, or have always been looking but have no idea where to get the original
Bubbi Brushes
locally (yes, you can purchase direct from
Bubbi.com,
but postage will cost you a bomb!), now you cant get it in
...
Cynthia Lee (a.k.a Guest Blogger for YSK)
Edited by YourShoppingKaki :)