By Cynthia Lee (Guest Blogger)
If there is any make up products that I would not buy as often, that would be lipstick.
I don't know who is to be blamed. The mouth - because it just doesn't have this sensational shape that oozes sexiness despite being colored with pretty hues. Or perhaps, I should blame the lipsticks- because almost none that I have tried sparsely ever work and stay long on my lips. I am after all, one who talks alot.
The
Revlon ColorStay Ultimate Suede lipstick
is one interesting lipstick I tried and wouldn't mind making this my daily must-have.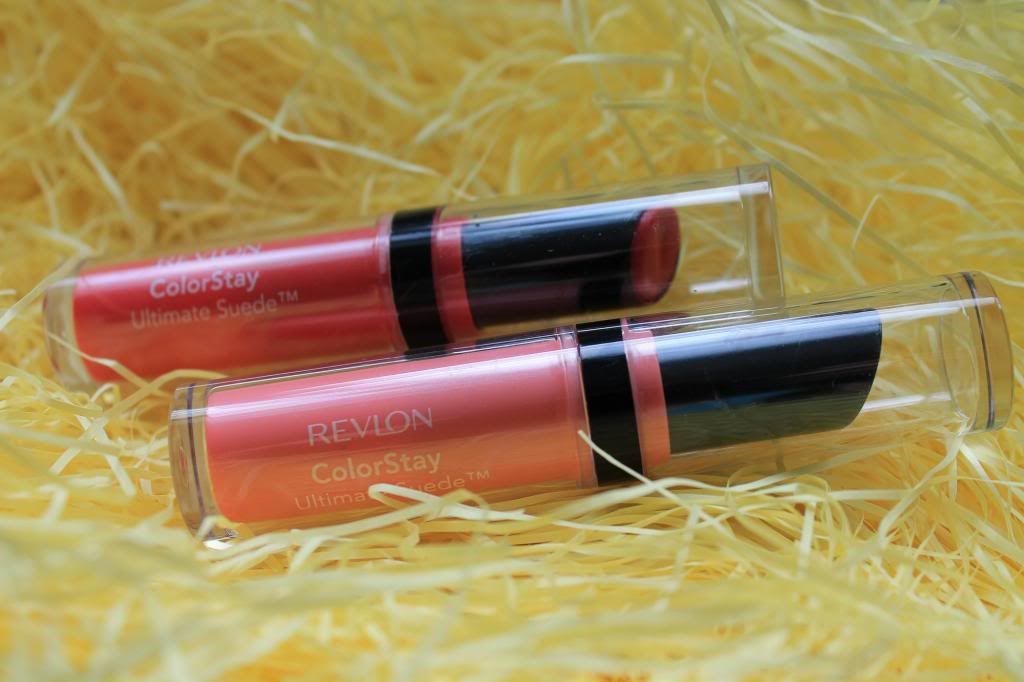 Encased in a simple clear plastic encase with no frills and thrills, it looks just like any other lipstick that promises fun colors from the lightest shades of pink to the boldest shades of red.
Lo and behold! Do not underestimate the word 'Ultimate Suede' as promised by Revlon. As someone who rarely wears lipsticks but piles up on eyeshadow mostly, I must say these have given me more option to lie low on those eyeshadow and go high profile with power lips! =D
Lipsticks names are always unpredictable! From, Bubble Gum to Blazing Fire and the likes, these range from Revlon too gives you an indication on what to expect when selecting the different shade.
For this review I have chosen Front Row - which is quite natural for an attention seeker (LOL!) and Finale - for those who wants to end everything with a bang! See? I can so connect with the names of these lipshades! It's like bearing your personality in them everytime you wear 'em on ;)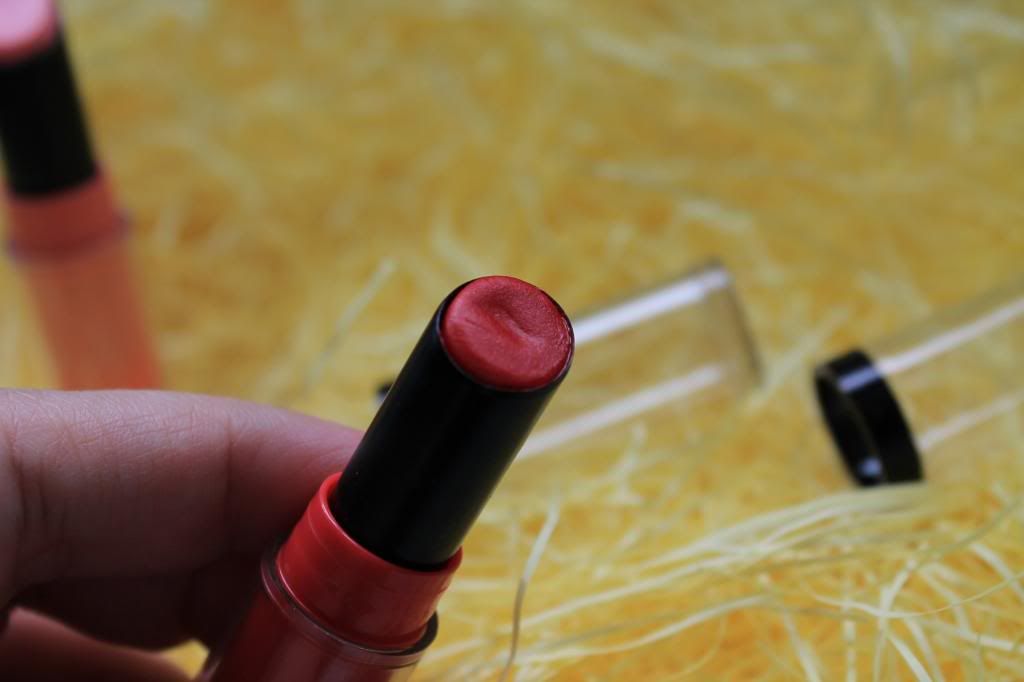 Revlon ColorStay Ultimate Suede in Finale
- needless to say is a very deep shade of rouge
The
Revlon ColorStay Ultimate Suede
is generally a set of matte collection of lipstick. When applied on, it started off as a layer with a sheen of shine. 2 minutes upon leaving it, it actually dries up and blends in to your lip like a natural lip shade, but in funkier colors haha!
Pretty hard to describe for someone who prefers nice clothes than make up but whatever it is, I love the outcome!
The
Revlon ColorStay Ultimate Suede
range is concocted with
Shea Butter
as one of its main ingredients that contributes to the hydration and creamy factor while working itself to appear matte without creating chapped lips. Read here for its full details :
Revlon Ultimate Suede Launch in Malaysia
Here's a swap of both colors that appear like any other lipsticks when applied on. That is until it sets in ;)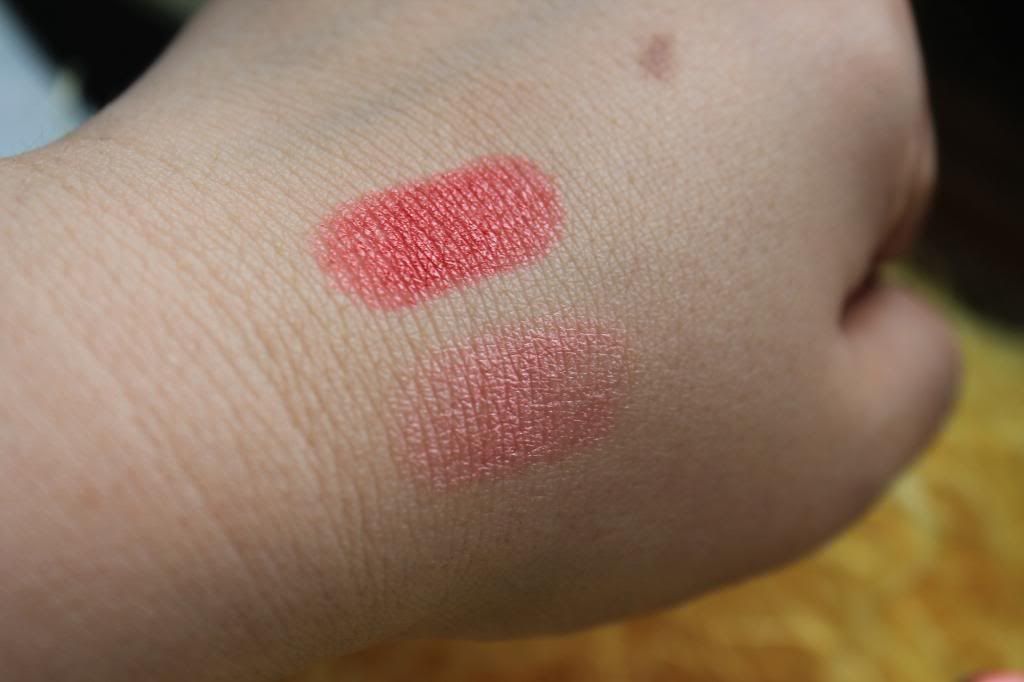 As much as I don't like
pink lipsticks
in general as it makes one looked like they desperately trying to hide lighten the color of their not-so-nice lips, I must say I am swearing by this! Upon applying and with the slightly oily sheen, it appears just like any other lipstick. You need to wait for a couple of minutes till it sets in and you have this seamless tone as if you are born fairy like and not faking it haha!
Worry not about the color bleeding out. It just sets in like a stubborn neighbor refusing to leave the territory once it dries up.
My favourite shade have got to be
Finale
. It is a very fierce shade on the tube itself. With Shea Butter and Aloe as one of the main ingredients, you can see the buttery layer of smoothness when applied on, with a sheen of gloss. Once the color have sank in, it is almost seamless, as if the colors permeates form your lips! When it dires up, it literally loses the shine and appears as the given name - 'suede'. It's matte while not appearing like a heavy layer of cream plastered onto your lips. That's why I call it seamless :)
Before and After with Finale - my preferred choice of color =D
As a fan of color contrast, I would color co-ordinate my shades to bring out the contrast of whatever I am wearing. And this is my lip color whenever I have my black dresses on =D

The Revlon range of beauty products are available in all leading pharmacies and most major shopping centre - Parkson and Metrojaya and beauty stores such as Sasa. It retails at RM36.00 each.
Do check out Revlon Malaysia Facebook to get yourself updated on their products form time to time.
By Cynthia Lee (a.k.a YSK Guest Blogger)
Edited by YourShoppingKaki