By
Cynthia
(Guest Blogger)
If you've been an ardent fan of the online shopping scene since ages ago, I'm pretty sure that you would somehow come across
Pink N' Proper
- the online store that brings you all those gorgeous dress collections from brands that you can't possibly get from your local offline stores in Malaysia.
End of the year are the time when we girls will be so busy using up all the moolah to stock up on pretty dresses for those year end parties! Check out
Pink N' Proper Autumn/Winter Collection
that brings you a wide selection of prom dresses from many international trending styles.
Be it for the prom nite, attending wedding dinners or year end parties, do it with styles with these gorgeous pieces. Among the brands that you get to see in
Pink N' Proper
are Rare London, Lipsy, Vero Moda, Asos and the likes. Some of these may not be accessible as it may not ship across to our shore. For those of you who have yet to own a credit card for international purchasing, getting them direct too is a problem. This is where Pink N' Proper comes in to serve you ;) Have it all transacted with your ringgits via bank or cash transfer and let 'em do the rest of the job!
Dressing up like a diva with these gorgeous and elegant dresses from
RARE London
.
Bandage Mesh Dress | Cut Out Baroque Dress | PU Bandeau Hi Lo Dress
Fun and flirty is your usual mode?
RARE London Spot Mesh Bandeau Dress | COCO's Fortune Lace Prom Dress | RARE London Paneled Skater Dress
Looking for some sunshine bright and cute bikinis? Jump into the pool of fun and flirty design here with the range of bikinis, monokinis and such from them.
Check out 'em bikinis here
BIKINI
They also have some fabulous sales item for you to stalk.
Arrgh! I have been eyeing these for the longest time! Ain't they pretty?!
Rare Wrap Neck Dress in Chain Print | Rare Tube Side Mesh Dress
Check out SALES here: Pink N Proper SALES
Now, while you are there and if any of the dresses pique your interest, you can get a
15% discount
from your purchase. Simply use the
code: YSK15
to get the fabulous rebate when you check out!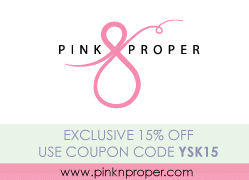 Cynthia Lee (a.k.a. YSK Guest Blogger)
Edited by YourShoppingKaki :)