What's in a name?
I love names - the embarrassing nicknames your siblings give you, the snuggly pet names your significant other reserves for only you, the names us girls dream of giving our litter of future offspring ...
And then to have your name worn on you in some special way - whether it's a daring emblazoned tattoo on the back of your neck or on a piece of jewelry. :) I just love that tailored, personalized feel of having my name on me - if you feel the same way, then this product review is one you'll find useful. :D
Remember the infamous
"Carrie necklace"
that Carrie wears in Sex and the City? :D Notice how the fashion-lovin' celebrities have name necklaces too?
Carrie Bradshaw aka SJP, Lindsay Lohan, Paris Hilton, Katy Perry!
It's the most personalized form of accessory available, and we're happy to know that we can shop online for name jewelry too! :D I've seen this online for over a year now, available in a handful of blogshops but I never tried it, so when
Glam Tags
wanted to prove to us that they're worth the price - we thought it'd be cool to give it a go and share this with our readers. :D
First, I chose between
three colours
for my name necklace: yellow-gold plated, sterling silver classic, or rose-gold plated. I chose silver because I figured it would be the easiest colour to match with any outfit. :D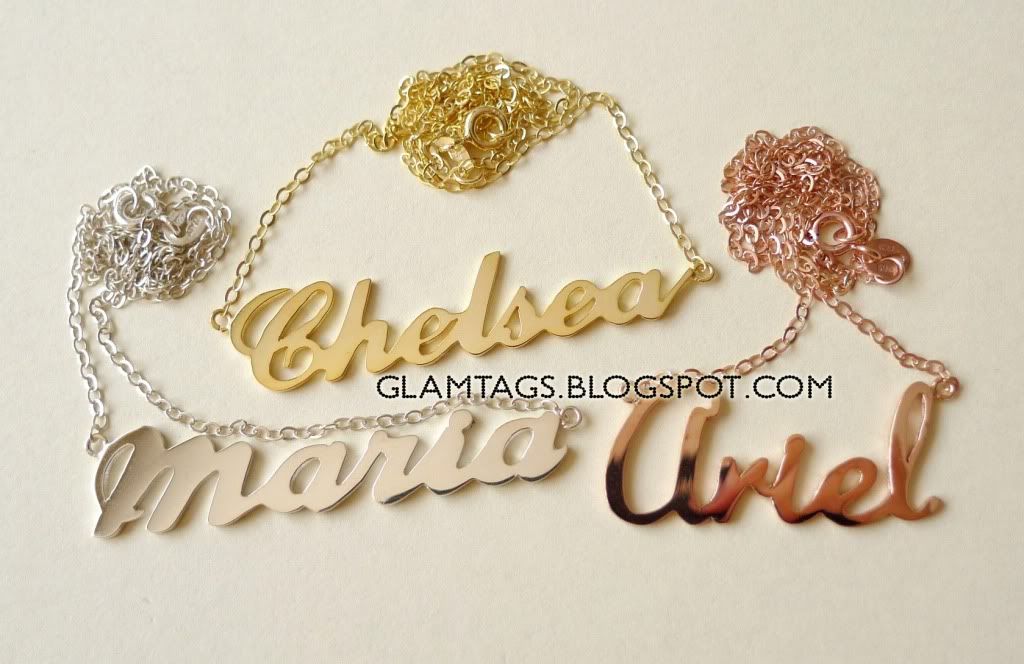 Second, I chose a font. :D Then, I sent in my order and this arrived at my doorstep a couple of weeks later! :D
Free Registered Post
for every order - but you can upgrade it to Pos Laju by paying an additional
RM5
. :)
Check out what I received! :D
Light, fine silver that will complement the most delicate and feminine styles
or the edgiest silver-rock trends :D
Flawless design and a name personalized for yourself.
If you're worried what your necklace will look like,
Glam Tags
can send you the design. :D
Love it! :D
Glam Tags
is going to be a sponsor for this particular charity jogathon -
Jog for Hope 2011
, organized by Taylor's College Sri Hartamas (the blogshop owner's college :D). They're giving out
RM5 vouchers
in the ALL the goodiebags, as well as setting up a booth to take orders on that day itself! And winners will get
RM50/RM100 (1st prize)
GLAMTAGS
vouchers!
GlamTags
is YSK-approved! :D It's now my personal go-to blogshop for customized jewelry, as they not only have name necklaces but also "long-message necklaces" and other engravings available. :) Joy!
Happy Shopping!
Your Shopping Kaki :)